UCLA Cross Campus Alumni Series: Cryptocurrency and Blockchain
Thursday, May 13, 2021
12:00 pm - 1:00 pm
Virtual

UCLA Cross Campus Alumni Series: Cryptocurrency and Blockchain- The Wild West or the New Age?

Thursday May 13, 2021
12:00 pm - 1:00 pm PST
Coinbase's direct listing. NFTs. Tesla's bitcoin balance sheet. The People's Network. In the rapidly changing, volatile market of cryptocurrencies and blockchain, there is a lot to unpack and much knowledge to be shared. How do firms value a currency with such large fluctuations? What are the applications of blockchain and how does that impact its overall adoption? What are the regulatory challenges associated with decentralized systems and how do you manage data privacy?

Adam Spar (MBA '19, Product Marketing at Gemini) will moderate this discussion o n this fundamentally interdisciplinary subject with a diverse alumni panel as they share their insights on a dynamic and rapidly evolving industry. He will be joined on the virtual stage by fellow alumni panelists from UCLA Anderson School of Management, UCLA Engineering, and UCLA Law:
• Liliana Reasor (MBA '96), Founder and CEO, SupraFin




• Eddie Shek (MS '92, PhD '97), CTO, ComFreight, Principal, Interna, Technology Advisor, Aevitas Property Partner




• Veronica Reynolds (JD '19), Associate at BakerHostetler
Panelist Bios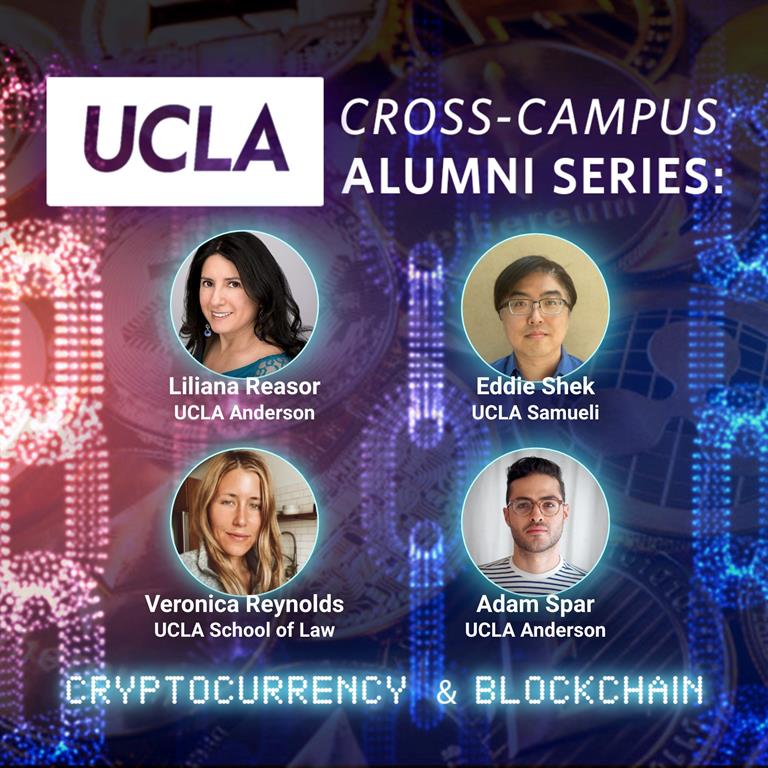 Liliana is a Fintech entrepreneur with 20+ years of experience in FinTech and investment banking at JP Morgan, Morgan Stanley, Deutsche Bank, Bank of America, and Moody's Analytics. She is the founder and CEO of SupraFin, the smart WealthTech platform for digital assets that leverages proprietary investment / risk models for digital assets. In the last two years, she has been a speaker in more than 30 FinTech, and digital assets events globally. Liliana has a M.S. in Computational Finance from Carnegie Mellon University, and an MBA from UCLA Anderson.

Dr. Eddie Shek is an entrepreneurial technologist with 20+ years of experience leading full-cycle software product development, large-scale SaaS solution deployments, corporate IT operations, and professional services in fast-growth and dynamic environments. He currently consults with various software businesses internationally in CTO, CPO, and executive coach roles to make product management and engineering more effective. Previously he co-founded multiple software and SaaS companies, including TrackX, a leading enterprise software platform provider leveraging Industrial Internet of Things (IIoT) technologies for the comprehensive management of physical assets and supply chain processes.

Veronica Reynolds is an attorney at BakerHostetler. Her comprehensive and extensive experience in digital media and technology provides a firm foundation for her legal work in the technology ecosystem, which encompasses blockchain and digital payments, data privacy and protection, cybersecurity, intellectual property, emerging technologies, and white collar investigations related to cryptocurrency fraud. As a law student, Veronica co-founded Blockchain at UCLA and currently serves on the board of directors for the Blockchain Acceleration Foundation, a nonprofit accelerating blockchain education at universities across Southern California and Mexico.

Adam is a marketing strategist at Gemini, a U.S. based global cryptocurrency exchange and the parent company of Nifty Gateway, a NFT marketplace. He oversees global product marketing for Gemini's retail and institutional business. Prior to working at Gemini, he consulted for the Algorand Foundation and Blockchain Acceleration Foundation, and led product development at ClearTicket, a blockchain-based event ticketing startup. He received an MBA from the Anderson School at UCLA, during which time he co-founded Blockchain at UCLA. Adam also volunteers as a product manager at Hack for LA, where he builds open source civic tech products, and invests in decentralized finance (DeFi) and cryptocurrency mining projects.