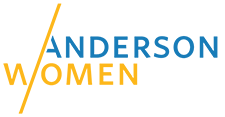 As part of Worldwide Welcome month, Anderson Women is thrilled to invite alumnae to the first Anderson Women's Welcome & Wine Soiree .
This is an opportunity to spend an evening connecting with Anderson Women while you learn about—and drink—wine!
Join Anderson Women and Wine Educator, Nicole Ruiz Hudson as she walks us through "How to Taste Wine Like a Pro." This virtual event has been created for all levels of wine enthusiasts and will be fun, educational and a chance to see classmates and meet new friends.
When:Thursday, October 29 from 6-7:30 PST
Where: Your nearest Zoom screen
How Much: $10 if you sign up by 10/24 and $15 if you sign up the week of the event
What to Bring (if you can find/order half bottles, that's a great way to try something new without too much commitment):
- A Sauvignon Blanc: ideally unoaked, French styles make particularly good examples
- A full-bodied California Chardonnay: ideally oaked for our purposes
- A light-bodied Pinot Noir: (versions from Oregon and France generally make better examples for our purposes)
- A Cabernet Sauvignon (versions from US, South America, South Africa, and Australia generally make good examples)
More information about the evening's program can be found below.
We hope to see you there - c heers!
The Anderson Women's Board
"How to Taste Wine Like a Pro" with Nicole Ruiz Hudson
We'll cover all the basics to give you the wine terms and understanding to get what you like so you can feel more confident ordering and talking about wine!
In this class, we'll explore:


- The mechanics of tasting
- Where wines get their flavor and how to pinpoint aroma descriptors
- The elements of wine structure and how to identify them (the real key to tasting like a pro!)
- This class has an interactive format, and you'll be tasting through a selection of wines as we go.
- The goal is always to help you find your way to wines you'll love.
Nicole Ruiz Hudson has earned her WSET Diploma and is a Certified Sommelier. She spent 3 years in the tasting department at Wine Spectator in New York and writes for their 8 & $20 recipe pairings series. You can follow her and book virtual tastings, pairing sessions and more on her blogs – NibblingGypsy.com and Sommstable.com.