Alumni Website | Career Services | Events Calendar | Directory | Class Notes | Give
Anderson Venture Accelerator: Launching the Next Generation of Entrepreneurs
On Monday, January 25, UCLA Anderson celebrated the launch of the new Anderson Venture Accelerator, a 10,000-square-foot facility designed to foster collaboration among aspiring Anderson student entrepreneurs, alumni mentors and the greater world-class UCLA community. Dean Judy Olian described the accelerator as a "living lab offering students and researchers an environment that triggers innovation and breakthrough ventures."
The Anderson entrepreneurial spirit was strong as three entrepreneurial venture teams received Cadillac's Dare Greatly awards of $10,000 during the inauguration. In addition, many of whom were alumni entrepreneurs and venture capitalists - enjoyed food and beverages from alumni owned businesses and watched video highlights of UCLA Anderson and UCLA entrepreneurs.

"The accelerator will provide the right ecosystem, students will have a more defined path." - T.K. Pillan '96, Co-Founder & Co-Chairman Veggie Grill
Following the remarks, attendees toured the accelerator to see the facility, which consists of meeting rooms, big screen monitors for conference calls, seating for 45 people and a kitchen - flanked by visuals of alumni startups and trailblazing alumni entrepreneurs. Read more...
Dean's Distinguished Speaker Afternoons are Coming
Join Dean Judy Olian as she hosts UCLA Anderson's best and brightest alumni leaders at our upcoming Dean's Distinguished Speaker Series (DDSS) events. Typically held during the middle of the day, these two DDSS events will be held later in the day to provide alumni the opportunity to participate.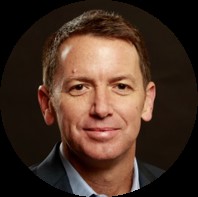 Andy Campion ('93, '03) EVP & CFO, Nike, Inc.
Thursday, February 4, 2016
5:15 p.m. - 6:15 p.m.
UCLA Anderson, Korn Convocation Hall
Complimentary event

Andy Campion (UCLA '93, MBA '03) will join Dean Judy Olian for a conversation about leadership. As Nike's EVP and CFO, Campion helps to lead the world's #1 sports brand, with revenues of more than $30B annually. A light reception will follow the program.
Susan Wojcicki ('98) CEO, YouTube
Thursday, February 11, 2016
4:00 p.m. - 5:00 p.m.
UCLA Anderson, Korn Convocation Hall
Complimentary event

Find out what lies ahead for the world's most popular digital video platform as Dean Judy Olian hosts YouTube's CEO Susan Wojcicki '98. An early champion of online video who was instrumental in Google's 2006 acquisition of YouTube, Wojcicki now oversees YouTube's content and business operations, engineering and product development.
Jim Moffatt '87 & Eric Mokover '80 will be Honored with Alumni Awards
Each year, UCLA Anderson takes great pride in recognizing two outstanding alumni whose personal lives, professional achievements and community service have enriched and strengthened the quality and reputation of the school and strengthened the alumni network. The awards will be presented on Friday, May 6 as one of the highlights of Alumni Conference during Alumni Weekend.
Jim Moffatt ('87)

John E. Anderson Distinguished Alumni Award Recipient
Jim Moffatt, the recipient of the John E. Anderson Distinguished Alumni Award, is Managing Director, Global Consulting Business Leader, Deloitte Touche Tohmatsu Limited, and Deputy CEO, Deloitte LLP in the U.S. He has served in various senior positions in Deloitte U.S. Since joining the Deloitte U.S. practice in 1987, Jim has earned a long-standing reputation for serving clients with distinction from strategy through execution and developing the next generation of leaders. Read more...
Eric Mokover ('80)

Outstanding Alumni Service Award Recipient
Few people have had as lasting an impact on the lives of UCLA Anderson students and alumni over the past 35 years as Eric Mokover. Many remember Eric as an energetic and highly effective Director of Admissions from 1981-1991 when the UCLA MBA Program grew into being a truly national and international powerhouse. As Assistant Dean and Director of the MBA Program and Dean of Students for the next 12 years, he managed all student services. Read more...
Think Globally, Impact Locally with Marta Ferro '99 and Starfish Impact
"I realized that with a best-in-class team that includes Anderson alumnae...I could create a business model that would make a more profound difference than I could as a solo volunteer." - Marta Gazzera Ferro '99
Meet Marta Gazerra Ferro '99, president of philanthropic consulting company Starfish Impact Inc. Realizing her passion for the non-profit sector and a results-and-growth oriented focus, she founded the company in 2005 to make a difference in the greater community by utilizing a business model that leveraged a team that includes fellow alumnae Faye Walsh Drouillard '08, Tina Gentile '96 and Julie Lacouture '06. "By applying commercial strategies and generating earned income from multiple revenue streams, and not just relying on charitable donations, organizations that would otherwise be classified as only public charities can often sustain and grow faster." Read more...
Build Velocity at Anderson Women's Leadership Summit
Friday, February 5, 2016
8:15 a.m. - 5:00 p.m.
UCLA Anderson, Korn Convocation Hall
The Anderson Women Leadership Summit will explore how women develop momentum in their careers and maintain their energy in the face of challenges.
Featured Speakers:
Keynote Speaker Jane Wurwand, CEO & Founder of Dermalogica
Cynthia Marshall, Chief Diversity Officer, AT&T
Bellamy Young, Actress, ABC's Scandal
Keynote Panels:
Writing New Code: Creating Balance in the Tech Industry
New Platforms, New Stories, New Images: Empowering Women Through Media
Plus, don't miss the opportunity to hear from UCLA Anderson professors Corrine Bendersky, Elisa Long and Margaret Shih. A $59 alumni ticket will include breakfast, lunch, and the afternoon networking reception. Learn more...
Upcoming Events

Office of Alumni Relations
UCLA Anderson School of Management
110 Westwood Plaza, Suite F301
Los Angeles, CA 90095-1481
(310) 825 - 9448
alumni.anderson.ucla.edu
To unsubscribe from official communications from the UCLA Anderson Alumni Network, click here.